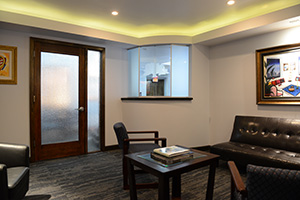 When you need a dentist in Fort Lauderdale, Oakland Park Dental's gentle staff is ready to deliver the best quality dental care. From cosmetic to restorative dentistry, our goal is to provide you with ultimate comfort, caring service, and state-of-the-art technology. We love what we do and it shows in our work.
We recently relocated our office to our new 3,000 sq. ft. facility with state-of-the-art dental and sterilization equipment, a soothing and ultra-modern environment, and an exquisite art collection that will sure put you in a joyous mood!
Founded by Dr. Howard Cunningham in 1999, our dentist and hygienists use the latest techniques and most advanced oral-care materials. But what really sets us apart is our relationship with our patients. Working together, we make sure they have beautiful smiles and healthy teeth to complement their active lifestyle.
So, what are you waiting for? Sit back, relax, and enjoy one of our super comfortable dental chairs. Call 954-566-9812 to schedule your appointment.